Final Sydney Blog, Bawley Pt.
Dan's leaving pub crawl followed the 380 bus from Bondi Beach to Taylor Square.
I went with Pete to the Great Escape Festival.
Kev, Liz, her mother and I went to Bawley's Point and finally I went to Brisbane to see my friends there.
380 Pub Crawl: North Bondi RSL
Dan's farewell pub crawl followed the 380 bus from Bondi Beach to the City.
First stop - North Bondi RSL
The other Life Saving Club located on the opposite end of the beach than the famous Icebergs.
We went there a few times for cheap lunch and trivia nights. In the background is Bondi Beach. Famous Bondi Hotel. We spent a lot of thursdays in here while the karaoke was on. Mike and Dan loved to sing and won the competition a couple of times.
Now the bar is renovated. The stage has been removed and I don't know if the karaoke is still on anymore. I avoid the Bondi Hotel and prefer more local pubs like the Nelson or the Robin Hood.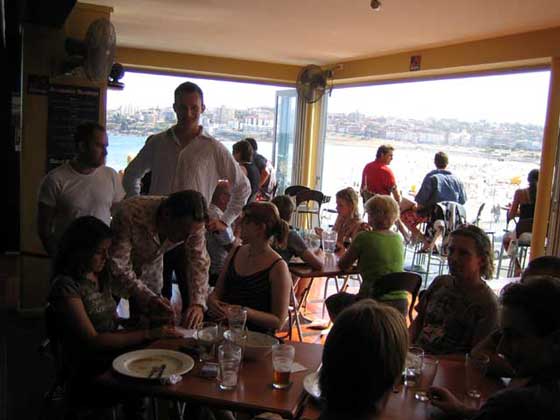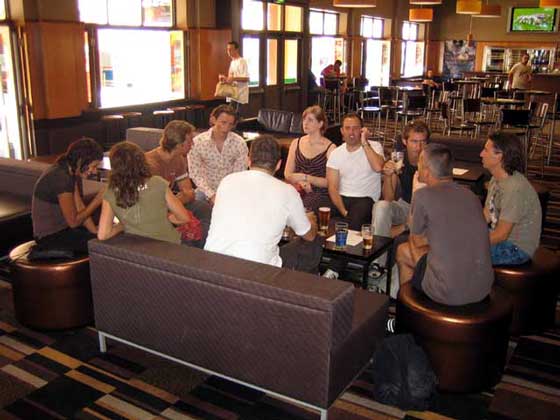 Paddington Inn
I guess thats the Paddington Inn because it was the only place where I had a Becks. (Actually I had 2 but don't tell anyone because we where only allowed one per pub) - It could also be the Elephant and Wheel Barrow.
Dan and Alison and I are looking very good considering that this must be pub number 5 or 6.
We reached Paddington on a little detour with the 389 bus. We missed 3 buses because we were so many people that it didn't stop. So we split and some took a cab while others walked or took the 389 bus. A breach of the crawl rules!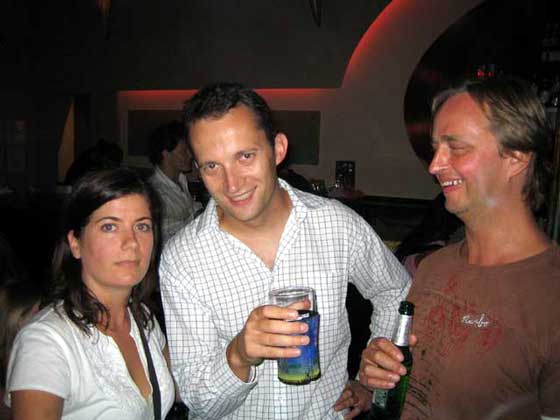 I don't really know where this is.
Must be the Beauchamps or the one before. Robert loosens up a bit. This is already the last pub. I don't know how we got in there because some of us were really drunk. Russ went out for cigarettes at 1 a.m. and couldn't come back in again. Dan had photos of a few people in his camera he didn't know and couldn't remember either.
It was a good day out and it wasn't too bad regarding the 11 pubs we visited.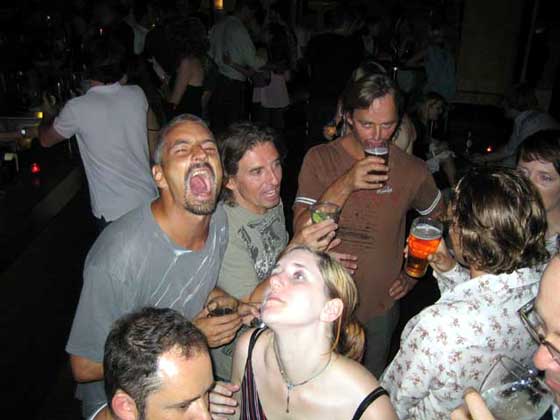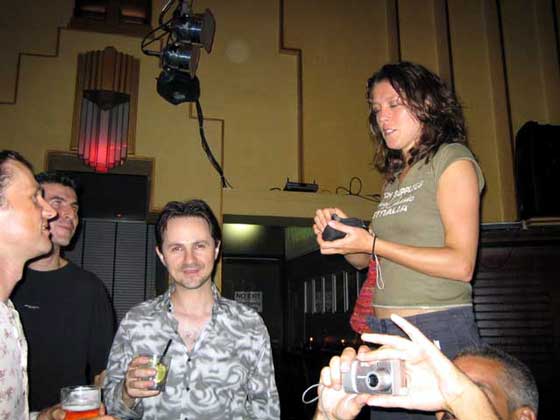 Goal reached - Dan is wasted. The 380 Route was:
- North Bondi RSL
- Hotel Bondi
- The Eastern Hotel
- The Nelson
- Light Brigade
- Paddington Inn
- Elephant and Wheelbarrow
- Fringe Bar
- I forgot the name (near petrol station)
- Beauchamps Hotel
- Kinselas
I went home at around 2 o'clock not completely drunk because I hold back in the beginning. Next day wasn't too bad. Dan was quite miserable.
He stayed in our flat the last 2 weeks before he left.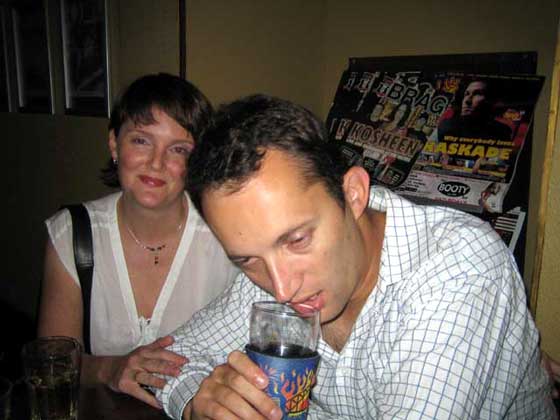 The Great Escape
The main stage of the Great Escape Festival. The Beautiful Girls are playing.

a festival near the olympic stadium which features mostly local bands. And some walking trees.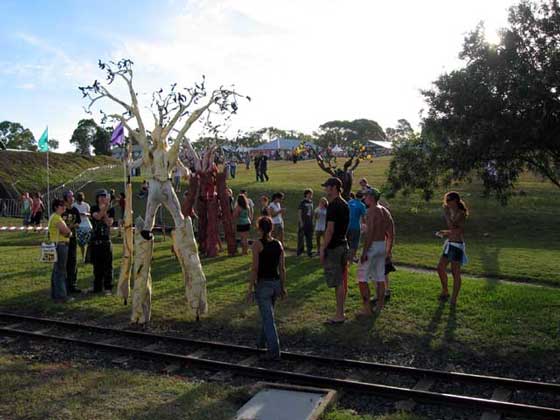 Pauls Office
That's it. Just one room - shared by him and Volker and the employees. Volker moved out of the office shortly after I made the photo.
I stayed there for a couple of days to see how architecture works in Australia. Paul showed me around on some of his sites. Good to see some architecture again.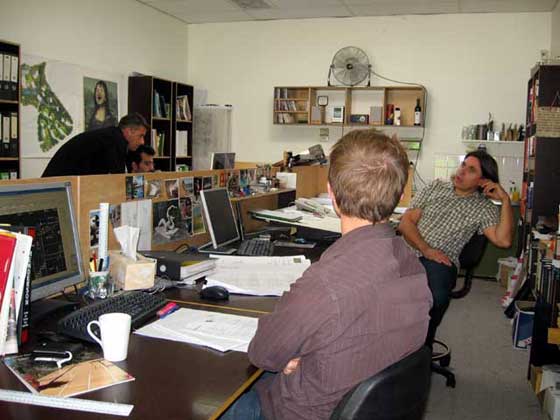 Black Cockatoos
Another visitor to watch from the balcony. They are quite big - almost half a meter high and they make a beautiful noise.
The other birds don't like them. It's probably because they eat all their food. We stayed at Peters house for a weekend. Unfortunatly it rained half of the time.
Kev is feeding some birds.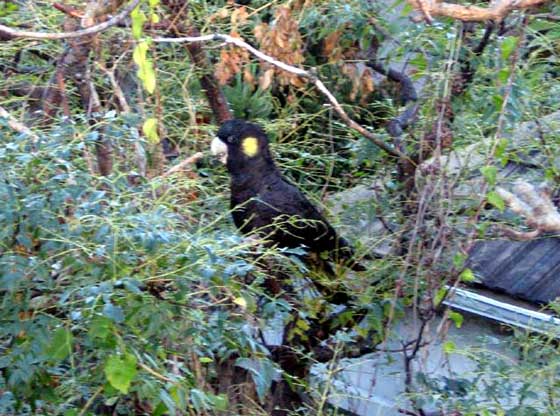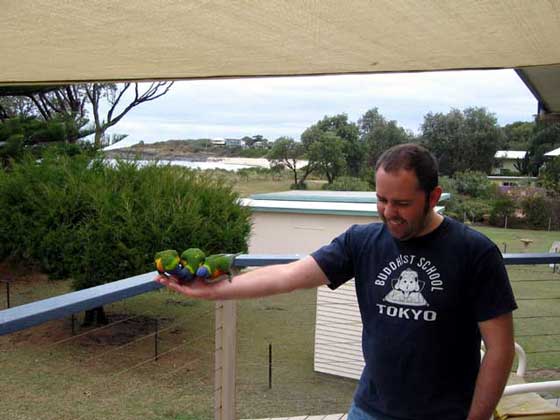 Lots of Rainbow Lorikeets wanted to share our food with us.
---
Finally some more or less wild kangaroos. They life near a campsite at the beach. So they are used to humans and you can almost touch them.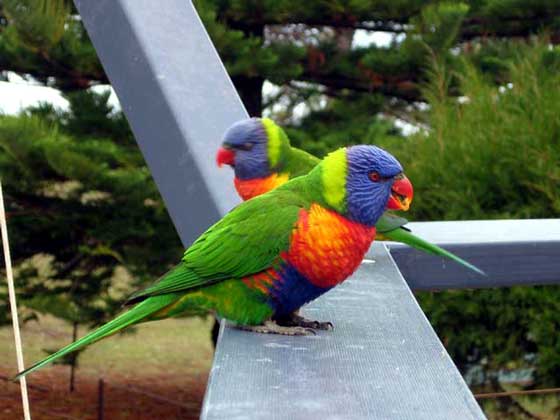 A little baby roo got curious.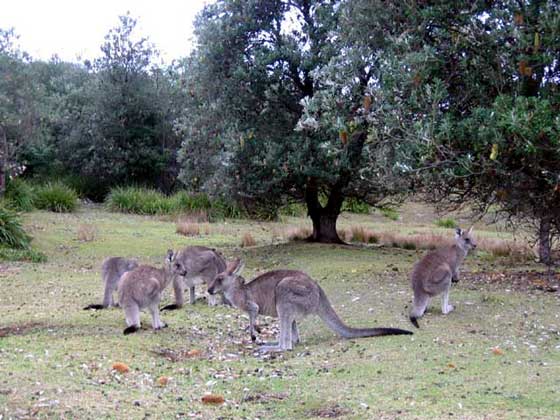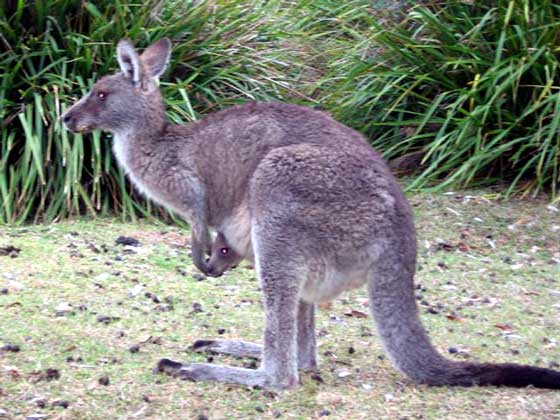 Brisbane
Ray, Russel and I met during their lunch break. I will work with Russel at Krome studios on a game for PS3 and XBOX 360.
The office is in the Fortitude Valley. A lively place with lots of bars and pubs. Kethrina and her sister Carmain on the deck of their house.
There is no real winter in Brisbane. It gets over 20 degrees most of the days. At night it doesn't get below 15 very often.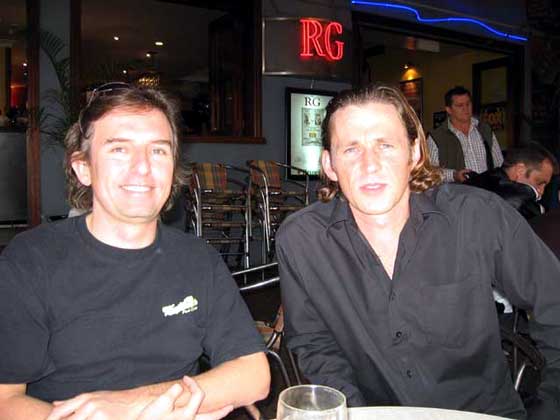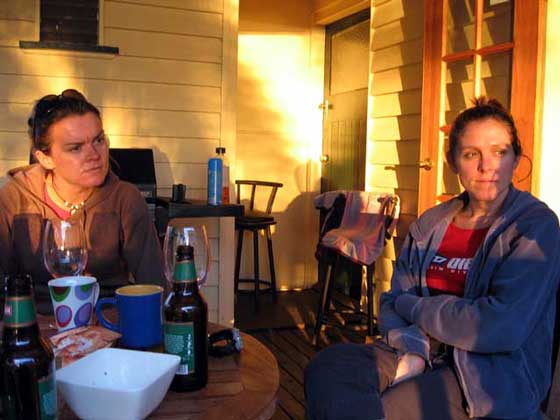 I already made some more friends there.
The Story Bridge and skyline how it looks on the way from Fortitude Valley to the city.
Some sort of a spider breeding net in the backyard of the house. Next day they were all dead.