Modular Level Design
Using mesh modules will take off work load from artists or level designers and make changes to a level easy even at the end of a project.
CTF-Niven
CTF-Niven2051 is the conversion of the original CTF-Niven from '99. I created the round corridors in 3dsmax. The picture shows the 8 main meshes the base corridors are made out of:
1: half of the base (2 instances - 688 triangles)
2: smaller corridor 90° curved (2 inst. - 602 trgl.)
3: smaller corridor straight (1 inst. - 174 trg.)
4: larger corridor 90° curved (2 inst. - 944 trgl.)
5: door frame (2 inst. - 212 trgl.)
6: small floor crate with pipes 45° (4 inst. - 420 trgl.)
7: small floor crate w/p straight (1 inst. - 208 trgl.)
8: large floor crate with pipes 45° (4 inst. - 420 trgl.)
Both sides use the same meshes with a different set of materials. So the instance numbers are actually doubled.
CTF-Niven2051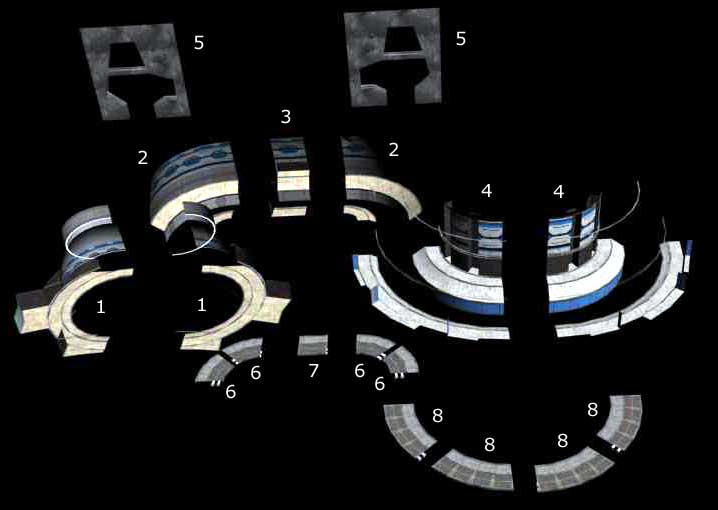 Aldwych Station
Both aldwych maps are based on a 384x384x128 grid. This makes it easy to create different variations of the station corridors and platforms.
There are 5 main meshes which most of the map (except the platforms and the service and train tunnels) is made of :
- straight part
- inner corner
- outer corner
- L-shaped section
- 4 grid ceiling part
Additional meshes are
- stairs
- escolators
- more ceiling variations
As an example you can see the different meshes marked in the below editor shot.
DMN-EscapeFromAldwych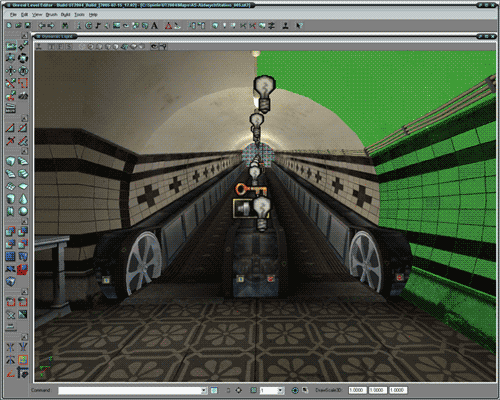 Computer Parts
The Domain2049 computers supposed to look like they are designed in the 50s but contain high tech inside. I wanted to have the look of the Terry Gilliam's movie Brazil. I didn't get it right but you may recognize the idea behind it.
I used sets of materials which swap textures and have different timings. Although they all use the same simple mesh they look different.
Images from Terry Gilliam's Brazil