Garde Ulanen Kaserne, Haus 2-5
Garde Ulanen Kaserne is an old heritage listed barracks complex in Potsdam. Originally built in the 19th century it was long occupied by the Russian army.
We worked on three buildings in this complex. Two were completed while the third one only got to council approvement.
google maps
History
This is part of the oldest existing barracks building complex in Potsdam.
The building was a very long stable for horses of the army. Every arch opened into one stable. Originally the arches were rectangled.
After the horses were replaced with vehicles in the early 1900 the doors where widened and reconstructed as arches.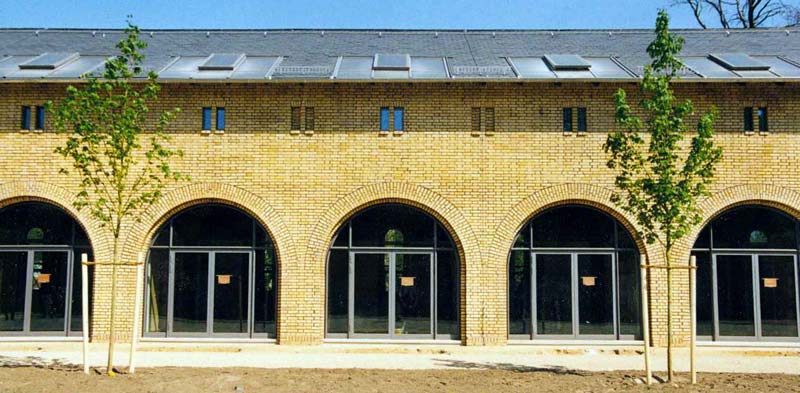 This image shows the offices on the ground floor. I designed the cupboards and my choice of natural oak industrial floor combined with a red carpet was accepted by the client. The desk were placed between the cupboards.
We had a few problems with the doors. All doors or windows opened to the inside - they usually do in Germany.
The doors and windows have steel frames and are very heavy. To get the arch right was a big challenge for the manufacturer. Every arch was a bit different.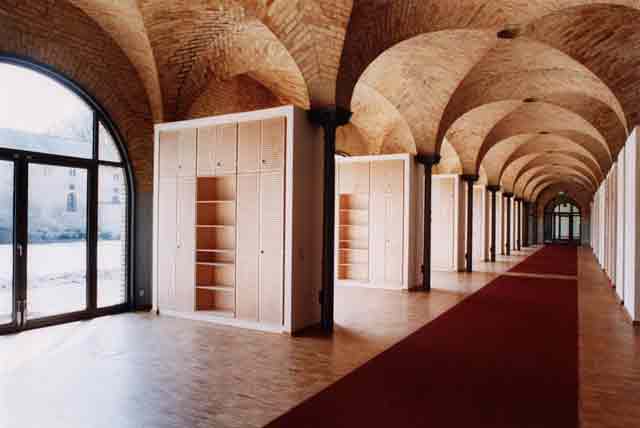 Blue Prints
This is a wire frame CAD render. We had the year 1996. This was the future.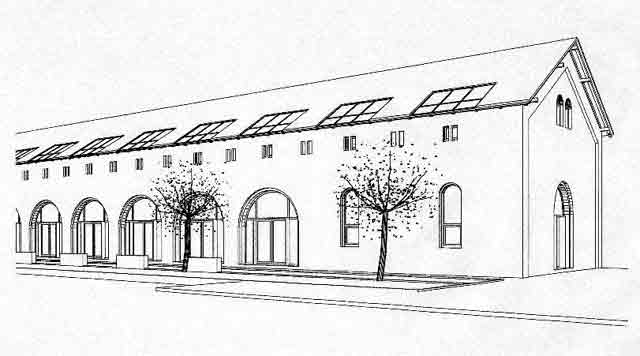 Youth Hotel / Backpacker
This is the ground floor of a design I made for another part of the complex. A low budget hotel, like a upper class backpacker. Some rooms had to be wheel chair friendly.
We had the documentation and design finished and council approved it. Unfortunatly a change in the law meant that the client couldn't finance the project anymore.
After that I did the design for a blood bank, for a Oracle branch and for a printing company.
All of them were canceled. The building might still be empty today.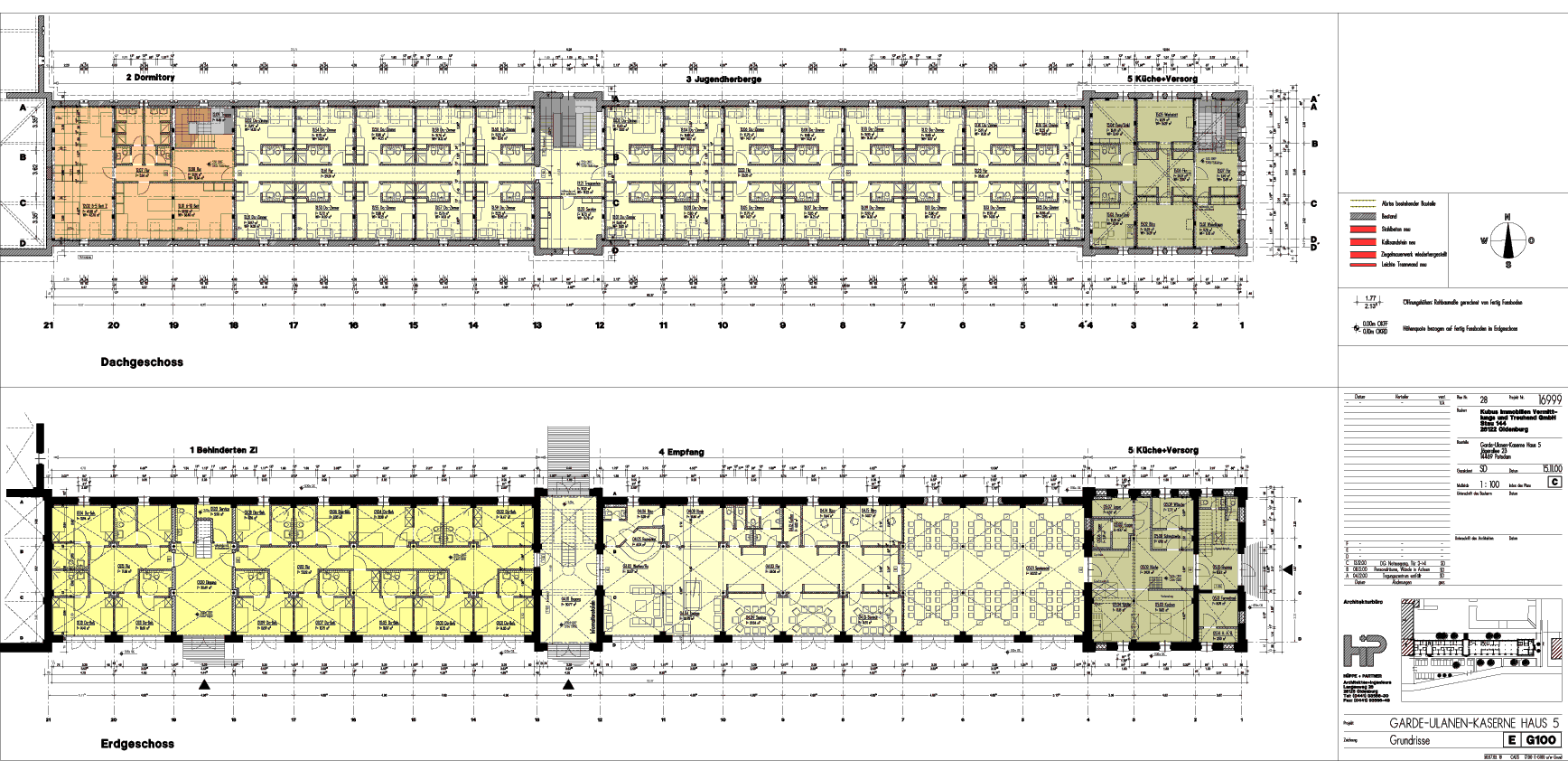 Elevations of the part of the complex. It is very long but not very wide. This part still had the doors in rectangle shape.

Simulation
I started to build levels for the video game Unreal Tournament. It has a very powerfull world editor. So I tried to use it to simulate the building.
It was very rough but I was able to walk in real time around and inside the building. Remember this was 1999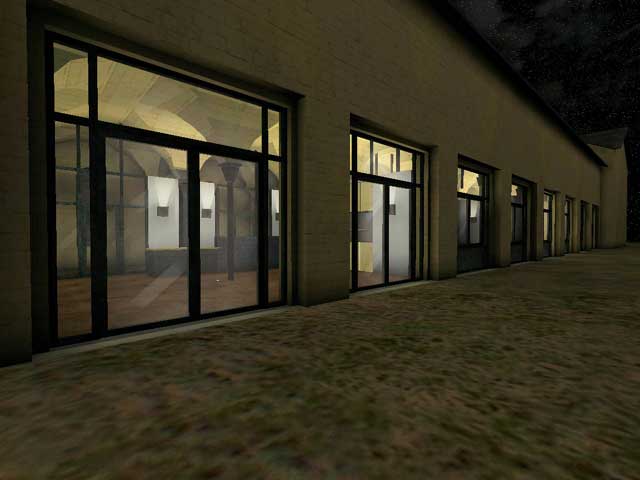 The modeling abilities were very limited. I used textures that came with the game. This is a real time screenshot while walking inside of the building.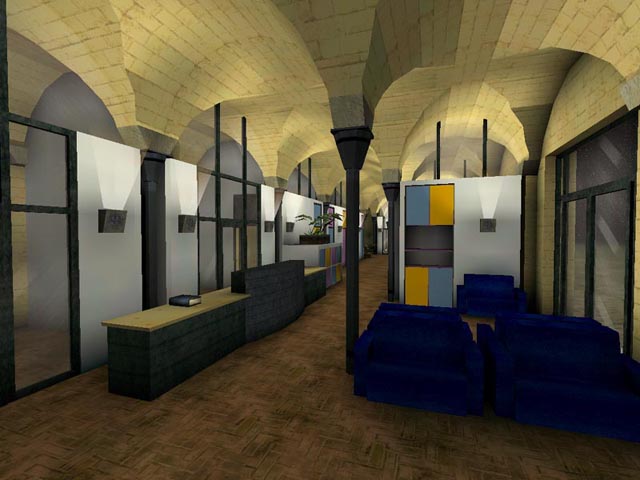 The engine supported transparency for the windows. I think I imported the wood texture for the doors.
The lighting engine was really good for 1997.
I am suprised that real time simulations are not more common for important projects. With the latest edition of unreal the simulation is very close to reality.
HKS architects going real time 3D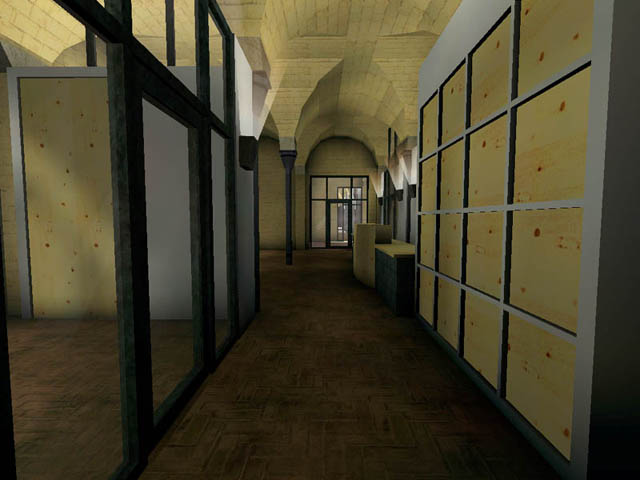 More Photos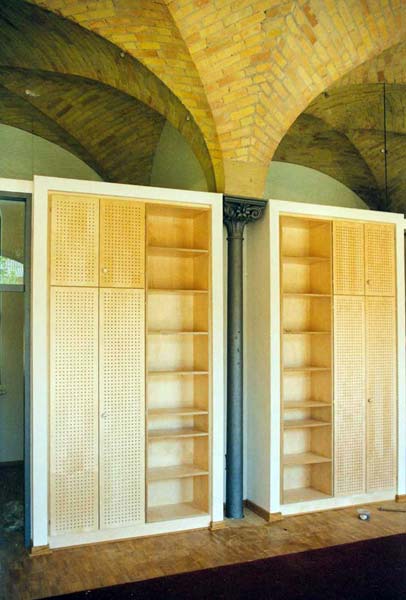 Upper Floor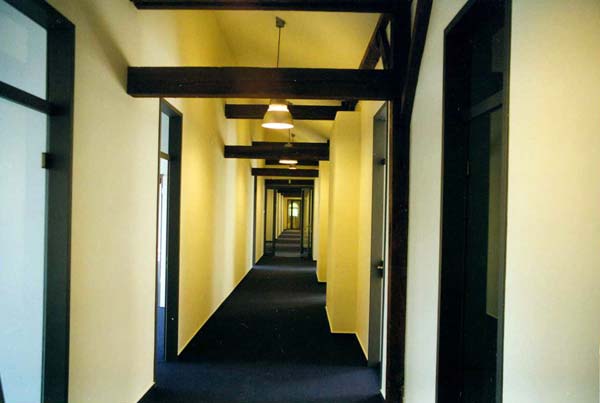 Detail of the brick ceiling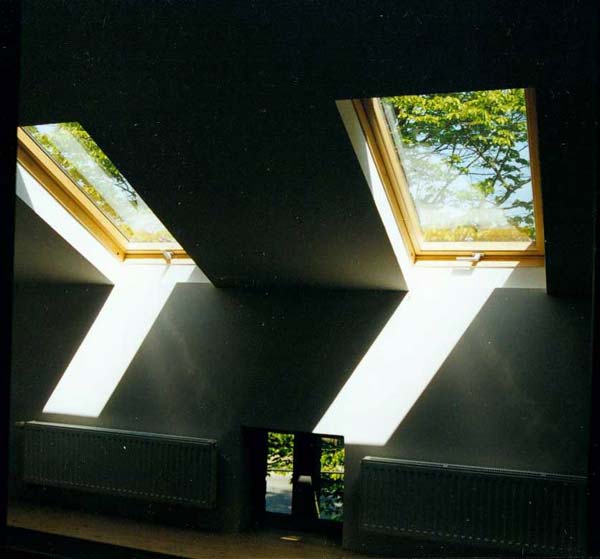 The building just before it was finished.